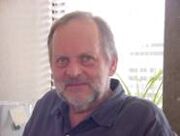 Gunther Kress is professor of Education/English at the Institute of Education, University of London. As well as Head of the School of Culture, Language and Communication; Director of ESRC Research Project 'The production of School English'; Co-Director of ESRC Research Project 'Biliteracies'.
His research interests include literacy, social semiotics, multimodality, discourse analysis and learning theory. He has a specific interest in the interrelations in contemporary texts of different modes of communication - writing, image, speech, music - and their effects on forms of learning and knowing. He is interested in the changes - and their effects and consequences - brought by the shift in the major media of communication from the page to the screen.
Bibliography
Edit
Hodge, Robert and Gunther Kress (1998). Social Semiotics. Cambridge: Polity Press.
Kress, G.R. and Theo Van Leeuwen. (1996). Reading Images: the grammar of graphic design. London: Routledge
Kress, G.R. (1997). Before Writing: Rethinking the paths to literacy. Routledge.
Kress, G.R. and Theo Van Leeuwen. (2002). Multimodal Discourse: the modes and media of contemporary communication. London: Edward Arnold.
Jewitt, C. and G.R. Kress (eds) (2003). Multimodal Literacie. New York: Peter Lang.
Kress, G.R. (2003). Literacy in the new media age. London: Routledge/Falmer.
External Links
Edit
Community content is available under
CC-BY-SA
unless otherwise noted.