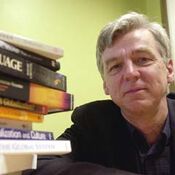 Theo Van Leeuwen is the acting dean of the Faculty of Humanities and Social Sciences at the University of Technology, Sydney.
After working as a film and television producer in the Netherlands and Australia, Van Leeuwen studied linguistics at the University of Sydney, and taught communication theory at Macquarie University and the London College of Printing. He has also taught courses at the Universities of Vancouver, Vienna, Madrid, Stockholm, Copenhagen and Auckland.
His research interests include media discourse, critical discourse analysis, and multimodal communication. He is one of the founding editors of the journal Visual Communication, published by Sage and sits on the editorial board of Information Design Journal.
Bibliography
Edit
Kress, Gunther & Leeuwen, Theo Van (1996). Reading Images: The Grammar of Visual Design. London: Routledge.
Leeuwen, Theo Van (1999). Speech, Music, Sound. Basingstoke: MacMillan.
Leeuwen, Theo Van & Jewitt, Carey (Eds.) (2001). The Handbook of Visual Analysis. London: Sage.
Kress, Gunther & Leeuwen, Theo Van (2001). Multimodal Discourse: The Modes and Media of Contemporary Communication. London: Arnold.
Caldas-Coulthard, Carmen Rosa and Theo Van Leeuwen 2002. "4. Stunning, shimmering, iridescent: Toys as the representation of gendered social actors". In Gender Identity and Discourse Analysis, Litosseliti, Lia and Jane Sunderland (eds.), 91–108.
Leeuwen, Theo Van and Adam Jaworski 2003. "The discourses of war photography: Photojournalistic representations of the Palestinian-Israeli war". Journal of Language and Politics 1:2, 255–275.
Leeuwen, Theo Van. 2006. "Towards a semiotics of typography". Information Design Journal 14:2, 139–155.
Leeuwen, Theo Van. 2005. "Three models of interdisciplinarity". In A New Agenda in (Critical) Discourse Analysis, Wodak, Ruth and Paul Chilton (eds.), 3–18.
Leeuwen, Theo Van. 2003. "A multimodal perspective on composition". In Framing and Perspectivising in Discourse, Ensink, Titus and Christoph Sauer (eds.), 23–61.
Machin, David and Theo Van Leeuwen 2005. "Computer games as political discourse: The case of Black Hawk Down". The Soft Power of War, Chouliaraki, Lilie (ed.), 119–141.
Community content is available under
CC-BY-SA
unless otherwise noted.